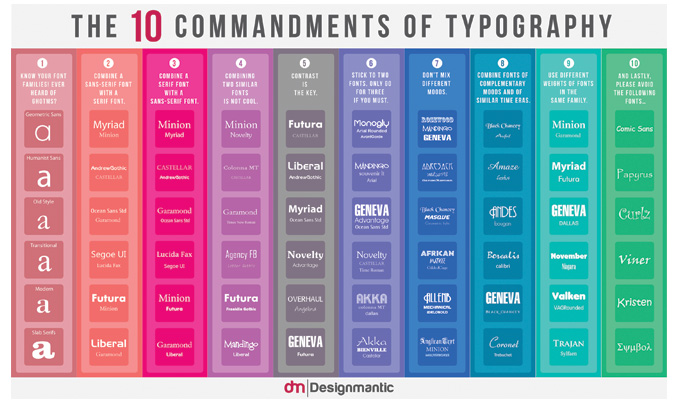 Another thing my prototype lacked was legible text and my font choice contributed to that. I didn't do any research on font combinations and just chose fonts that I liked myself.
So I started researching font combinations and came across a lot of really useful websites. The combination I'm thinking of going with is a Cursive font and a San Serif font – contrast is nice! I want both fonts to be clean and legible at any size.
After having a look around at different font combinations.. I didn't really see many cursive & serif combinations that I liked, only a few.
The only problem I have with some of the cursive fonts above is that they may not be legible in the app. I also had a look at some other combinations.
Canva has a nice font combination tool – you select a font from their drop down list & they give you a suitable combination. Surprisingly, however, they didn't have any cursive fonts.
I really like the font Montserrat so I tried that to see what it would be paired with. It got paired with Droid Serif and they work well together.
I think for my mockups I'm going to try out both a cursive & serif combination as well as serif & san serif. It's hard to judge what will work with the app without testing them first!
References:
http://www.creativebloq.com/typography/20-perfect-type-pairings-3132120
https://www.canva.com/font-combinations/
https://creativemarket.com/blog/10-infographics-on-how-to-mix-fonts-like-a-pro
http://ifontyou.com/styles/script
https://designschool.canva.com/blog/the-ultimate-guide-to-font-pairing/
http://tutvid.com/web-graphic-design-inspiration/20-amazing-free-font-pairings/
https://tympanus.net/codrops/2011/11/12/25-fresh-examples-of-beautiful-typeface-combinations-in-web-design/
https://blog.snappa.io/font-combinations/